Egg Net Spring Rolls
September 03, 2015
Ingredients: 6 eggs, lightly beaten, a teaspoon sesame oil, 1 tablespoon peanut oil, 500 g pork, mince 2 garlic cloves, crushed ¼ cup hoisin sauce, 420 g vegetables, 1-minute packet ready to stir fry 1 tablespoon coriander, fresh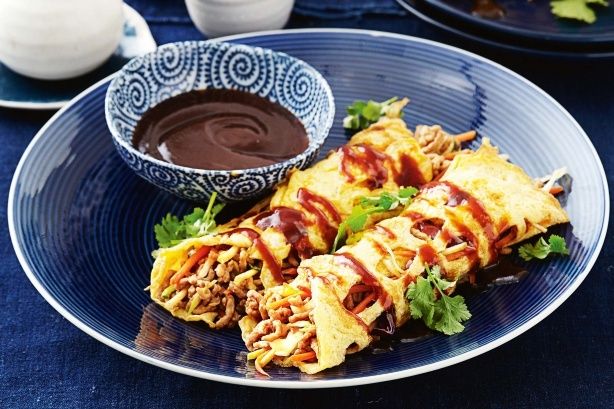 Preparations:
Combine egg and sesame oil in a jug. Heat a non-stick frying pan over medium – high heat. Add 1 teaspoon peanut oil. Swirl to coat. Drizzle 2 – 3 tablespoons egg mixture back and forth into pan to form a crisscross patterned omelet. Cook for 30 seconds. Carefully turn omelet over. Cook for 20 seconds. Transfer to a plate. Cover to keep warm. Repeat with remaining egg mixture and oil to form 8 omelets.
Heat remaining peanut oil in a wok over high heat. Add mince. Stir-fry for 3 minutes or until mince has just changed color. Add garlic. Stir fry for 1 minute. Add hoisin sauce. Stir fry for 2 minutes.
Add vegetables to wok. Stir fry for 1 minute or until heated through.
Place 1 omelet on a plate. Top with 1/8 mince mixture over center. Roll up to enclose. Repeat with remaining omelets and mince mixture.
Combine extra hoisin sauce and 2 tablespoons cold water in a bowl. Drizzle omelets with extra sauce. Sprinkle with coriander leaves. Serve.
Think about it... eggs are indispensable in anyone's kitchen. Why not do something new about it instead of preparing it the conventional way again and again. I'm sure everyone in the family would love it. Just as much as I did while scouting for
guitar sale
online.