Copy-Kids: Because Children learn best from other children
July 14, 2012
Yesterday wasn't so great until I get hold of this cool DVD from COPY-KIDS MEDIA in Sta. Monica, California delivered right in front of my doorstep. I look forward to it but I didn't know it would come yesterday. I opened it right away and played it for my 4-year old niece, Elija and what do you know… she couldn't stop watching!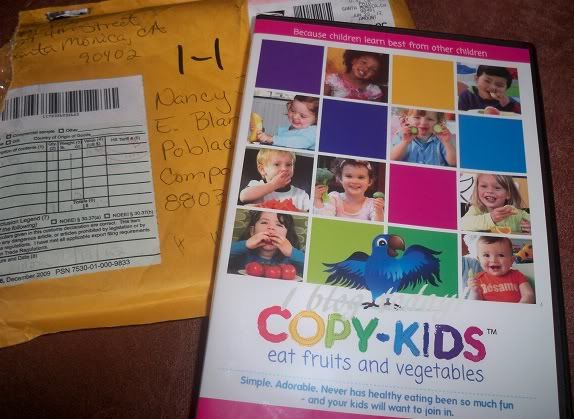 Copy-Kids Eat Fruit and Vegetables is divided into 12 chapters, each focusing on a different fruit or vegetable. The yummy veggies and fruits include: Bell Peppers, Cucumbers, Carrots, Avocado, Tomatoes, Broccoli, Oranges, Bananas, Raspberries, Strawberries, Apples and Blueberries. For parents, the DVD also features an interview with renowned Pediatrician Dr. Jay Gordon, MD, FAAP, author of Good Food Today, Great Kids Tomorrow. He talks about childhood overweight and obesity, suggest ways that parents can get their children to make healthier food choices, and explains why Copy-Kids is such a powerful idea, noting "That's just the way kids are, they love to copy other kids".
ABOUT COPY-KIDS MEDIA
Copy-Kids is a media company producing video that encourages positive habits in young children, by letting them watch and copy other kids. Copy-Kids unique content – online and DVD – helps parents get their children hooked on healthy and positive habits. Produced for children aged 6 months to 5 years, Copy-Kids debut video is fun and compelling for both children and parents. Subsequent Copy-Kids products will cover other desirable behaviors like Tooth Brushing, Exercising, Tying Shoes, Letter and Number Recognition… plus more healthy eating… all taught by kids.
For a copy of any of those mentioned videos, you can visit Copy-Kids at www.copy-kids.com!