Gonna Party with Jes on the 5th
July 09, 2011
What is your memorable birthday experience and how did you celebrate it?

Hmm, think... think... think. Do I even have any? I really didn't get to have any fancy birthday celebration ever. The most memorable I could remember is the one when I was like 5 or 6 years old. And it was when I woke up on a bed with lots of goodies - name it chips, chocolates, candies, toys on the morning of my birthday. You know how kids are when they get surprises? That's how I exactly felt back then. Other than that, all my birthdays were spent simply. Unlike my virtual social life, I have a poor one offline. That explains it better. :D

So what's with the question anyway?

I have this friend/fellow Pinay mommy blogger who will be celebrating her birthday on the 5th next month. And in line with that even, she's hosting Let's Party... Jes is Thirty Giveaway contest and yes, you guessed it right... I am joining and I just started with the "TO-DOs" by answering that initial question above. :D

Right, there are few more tasks to do to qualify so I'm about to head out now but before that how about checking it out too. I believe the contest is open to all bloggers so just hit the banner below to get started. GOOD LUCK!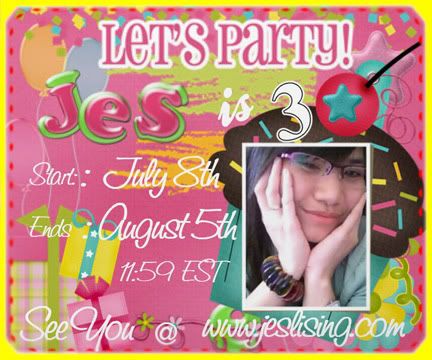 Look  how blessed she is and she really didn't have to be alone to carry her contest out successfully. So sweet and generous of the people behind the following pages below. :D
*Occasions of Joy*New Home Sweet Home*My Little Angels in America*Kitchen Explorers*Mamee and Me Fashion*The Wonderlusts*Hobby Lovey*
*Flakes and Nuts*Pink Memoirs*Life According To Me* Corsame Lane*Delight my Appetite*I Love Darly*Kerslyn's Comfort Zone*Random Thoughts**Treasure Box*Zowanderer*
* Rabago Family Escapade*Pink Fortune*
* Little Yzzy*Kizuna*Nshima Servings*One Proud Momma*My So-Called Life*Little Zoie's Steps*From Asia and Beyond*My Oweinilife*A Heart Full of Love*Written by Mys* Buzz Online*A Wife's Dream Nest*One Proud Mommy*Sitback and Relax*Certified Photo Addict*Loose It Up*
My So-Called World*Levyousa*Pensive Thoughts*Home Buddies* I Love Hues*The Life Encounters*Music, Movies, Stars Etc.*Jared's Little Corner*Mum Writes*Oh Gosh Gulay*Filipina Blogger*Mom Writes*Kitchen*The Tottering Mama*
Okay, I'm really ready to head out now. See ya! ;)